Legal Age To Bet On Sports In Each State
The legal age for US players to bet on sports depends on which state you are in at the time. The age limit will either be 18 or 21, as the age requirement differs from state to state and players can find out if they are of age to bet on their favorite sports at land-based casinos. The majority of online sportsbooks require players to be 18 years or old to place wagers through the book.
Some states will have a difference in age restrictions from land-based and online casinos, so checking with local laws is always important. Those who try to bet on sportsbook underage could face jail time if caught, but this page will explain the legal age of wagering on sports, so you do not have to worry.
Sports Betting Age Requirements by State
There are two different sports betting age requirements for states around the country. Every state does not have legal sports betting age requirements because that state has not yet regulated sports gambling. If that state does not have legal sportsbooks, the state age limit for casino games is the age to follow.
Alabama 21
Alaska 21
Arizona 21
Arkansas 21
California 21
Colorado 21
Connecticut 21
Delaware 21
Florida 21
Georgia 21
Hawaii 21
Idaho 21
Illinois 21
Indiana 21
Iowa 21
Kansas 21
Kentucky 21
Louisiana 21
Maine 21
Maryland 21
Massachusetts21
Michigan 21
Minnesota 18
Mississippi 21
Missouri 21
Montana 18
Nevada 21
New Hampshire21
Nebraska 18
New Jersey 21
New Mexico 21
New York 21
North Carolina 21
North Dakota 21
Ohio 21
Oklahoma 21
Oregon 21
Pennsylvania 21
Rhode Island 18
South Carolina 21
South Dakota 21
Tennessee 21
Texas 21
Utah 21
Vermont 21
Virginia 21
Washington 18
West Virginia 21
Wisconsin 18
Wyoming 21
How Do Sportsbooks Verify Your Age?
You will never be able to receive any payout for a winning bet if you have not verified your age with the sportsbook. All sportsbooks will ask for some form of documentation to verify your age when placing wagers on sports. For most, you will need to show a valid driver's license, ID, or passports to act as proof of your age. In most casinos, verification will be at the door, and since casinos may have an age requirement to get into the casino that differs from the age to bet. This means it could be possible that you are allowed inside the casino but are not old enough to place a wager.
Online Sportsbooks For 18 And Over Bettors
There are multiple online sportsbooks that are for 18 and over bettors. Bovada, BetOnline, Sportsbetting.ag, MyBookie, and XBet are some of the sites where the legal age for US players to bet on sports is 18 years old. These sportsbooks are available without down on all iPhones or Androids. Not only do these online sportsbooks have a legal age lower than some land-based casinos, but there are also opportunities for different welcome, deposit, and Bitcoin bonuses available when placing wagers on your favorite team. As long as the sportsbook can verify your age, you can begin gambling for real money through your smartphone, tablet, or computer.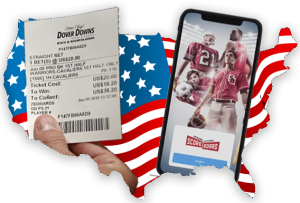 Is The Legal Betting Age Different For Online Sportsbooks?
There are some cases where the age requirement to wager at land-based sportsbooks in your state differs from online sportsbooks. Most states have the age limit at 21 for players while most online sportsbooks have it set at 18 and over. Some states do not have legal sports betting laws enacted but still have an age restriction for gambling in the state. The state law does not regulate online and international sportsbook age limits so residents in those betting states can legally place wagers on sports. You will have to be the legal age to bet on sports in each state for both land-based and online sportsbooks.
Will I Go To Jail For Underage Gambling?
Even if it's just your first time, you could go to jail if you get caught gambling on sports underage. Some other legal consequences that you could face might include a $500 to $1000 fine, six months driver's license suspension, probation, community service. Getting caught gambling underage can not only land you in jail but could also result in jail time for your parents or guardians. If you bet on sports underage, the person legally responsible for you could be charged with a disorderly person offense. To avoid any chance of any type of legal punishment, it is always better to just wait until you are of the legal age of US players to bet on sports.
Best Sportsbooks for Betting States
Rank
Online Sportsbooks
Bonuses Offered
Rating
US Players?
Play Now!