Betting With A Bookie
Betting states with a bookie has long been the preferred sports betting method of many in the United States. Dating back to the early days of this country, bookies have been the sole proprietor of sports bets for centuries. With the sports betting market being deemed illegal in the US for so long, local bookies were the only game in town for years across many states and betting markets. While bookies are unregulated and against the law, they were the only shop in town for many bettors for many years. These illegal bookies come from all sorts of backgrounds, and can sometimes even have financial ties to criminal organizations.
Luckily, we are now moving into a new age of sports betting. One that prioritizes legitimacy and regulation in order to move this proud pastime out of the shadows and into the spotlight. Many betting states in the US have already legalized sports betting, with many more currently in the process of doing so. While using a local bookie does have some benefits, there are so many more options and possibilities when using legal sportsbooks. On this page, we will go over some of these benefits while comparing and contrasting the two forms of sports betting.
Things To Look Out For When Betting With Bookies
The biggest risk when betting with a local bookie is that they will simply not pay you your money. Many times, local bookies are friends or family members that happened to start being a bookie on the side. They typically lure you into their system offering little juice bets or free play in order to build your trust and familiarity with using their system. Suddenly, you win big and want to receive a payout, but the bookie isn't answering your calls or texts. You play phone tag for a while until they offer to pay you out in small payments, or simply disappear entirely. This is a situation all too common with local bookies, who operate in a completely unregulated and illegal market. When looking for a local bookie, always try to find the most legitimate-looking operation or simply avoid the situation entirely
Is It Illegal To Bet With A Local Bookie?
Betting with a local bookie lies in a weird place when it comes to legality. In line with most betting regulations, things fall on a state-by-state basis, but the general consensus states that while it isn't legal to bet with a bookie, it is illegal to operate as a bookie. Basically, it isn't illegal to make bets, only to accept them. While this means that you won't be in legal trouble, your bookie is liable for multiple cases of an illegal gambling operation. This means that, at any moment, your bookie could be arrested and shut down, leaving any money you have in their book behind. This is always the risk when using illegal local bookies.
How To Find Bookies Near You And Online
Many people don't use local bookies because they simply do not know where to find them. After all, it isn't something you can advertise publicly. Many local bookies like to keep their client pool small, as to not draw too much attention to their operation. You can usually find a local bookie by asking some of our betting friends, but don't be surprised when you either have to wait for a spot to open in their book, or are denied acceptance outright.
Instead, you should check out any of the online international sportsbooks we feature here on our website. These are complete digital sportsbooks that offer odds and lines on all of the world's sports. It is completely legal to use, and will always be able to pay you out on time and in full. While local bookies are the method of the past, online sportsbooks are the future.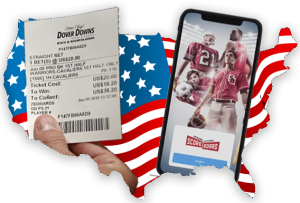 Rank
Online Sportsbooks
Bonuses Offered
Rating
US Players?
Play Now!





Online Bookie Vs. Local Bookie – Legal Concerns
As briefly mentioned, there are start differences between an established online sportsbook and a local bookie when it comes to legal concerns. With the online sportsbooks, there is no palpable risk for placing your bets and depositing your money. These platforms are established systems that have been serving sports bettors across the world for years and have paid out thousands and thousands of winnings in that time. When using an online sportsbook, there is no risk for your money to be lost as well as plenty of more betting lines and odds.
For local bookies, there is considerably more legal risk. If you have a large amount of money deposited with your local bookie, that money could be lost at any time if the bookie is caught by authorities. The bookie will be shut down, and no money will be returned to its customers. While local bookies can have the convenience of being a close friend or acquaintance, they simply do not have the long-term safety to be a viable option.
Betting At Local Bookies – Pros
Betting at local bookies is not without some certain benefits that obviously vary depending on each situation. With a local bookie, since they run the sportsbook, they can offer unique deals like free play at their discretion. This is commonly used to keep people betting after a series of losses.
Flexible bonuses like free play
Can bet on credit and payout after a certain amount
Run by a friend or acquaintance
Additionally, some local bookies only require you to pay out after you have lost a certain amount of money instead of with each bet. Finally, there can be advantages by knowing the person who is working the book, in that they may be able to accept bets directly from you or offer unique odds depending on a certain situation.
Betting At Local Bookies – Cons
While there can be benefits, most would agree that the drawbacks and risks of using local bookies outweigh any potential profits. While some local bookies are able to incorporate an online website to list and facilitate their odds, these websites typically pale in comparison to some of the larger online sportsbooks in terms of odds available as well as features like live betting and mobile betting.
Weak betting platform/odds list
Unreliable payouts
Risk of being shut down
Additionally, the money that local bookies have to work with is typically much smaller than online sportsbooks, meaning they might not be able to pay you out if you win big. Finally, the biggest risk of local bookies is that they are caught and shut down, leaving you with no way to receive your money.