Live Sports Betting
Find out any information on live betting that US players need to know before placing a live bet. There are different factors that come into placing a live bet that start from which sportsbooks and bonuses you plan to use all the way until it is time to place your bet. It also depends on which sport you plan to place a live sports wager on as well.
Throughout this page, you will come across all of the necessary information on live betting states at online sports betting sites. You will get a run-down of what live betting actually is as well as the sports that online sportsbooks offer live betting odds. Players will also see which of the top online sportsbooks offer live betting and if they offer bonuses on them.
Live Betting: In-Game Live Wagers Explained
Understanding live in-game betting is very easy. It is placing a bet on any sports game as the game is still going on. You are able to place a bet from the time the game starts up until the final whistle blows. There are also different live betting options, for example, if you were to live bet on basketball, you can bet on who will win the initial tip-off and even who will take the final shot of the game. Something else to keep in mind during a live bet is that odds will change on you. If you are betting on the moneyline of a game, you will notice that depending on the score, the odds could change from who was originally the favorite.
What Sports Support Live Betting?
You can enjoy live betting on most sports that are offered on online sportsbooks. Online sportsbooks will usually have a tab for sports games that are going on in that moment with live betting odds listed for them. Once you access that tab you will see that the odds do in fact change before you place your bet.
Sports That Offer Live Betting:
Soccer
Hockey
Basketball
Football
Golf
Esports
Tennis
Cricket
NASCAR
Baseball
Sportsbooks Offering Live And In-Play Betting
There are plenty of sites that you can access that all offer live betting options. From the sportsbooks that are newly operating and even the ones that have been around for years, they all offer live betting odds on different sports. One thing to keep in mind is that you should still shop different live lines on the different online sportsbooks to make sure that you get the best bang for your buck.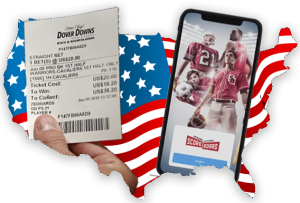 How Do The Odds Change When Betting Live Events?
When live betting on any sport, it is expected that the odds are going to change. They can change depending on how the action in the game is playing out. An example of this would be betting on the moneyline of an NFL game. The favorite of the game could change if they have a bad first half or end up losing at some point of the game, as the odds could shift in favor of the original underdog. Another example would be in an NBA game. You can bet on who will take the last shot of the game or which team will score the final points. These odds could change multiple times throughout the game depending on which team and player have the hot hand for the night.
Best Sportsbooks With Live Betting
Rank
Online Sportsbooks
Bonuses Offered
Rating
US Players?
Play Now!





What Sports Are Easy To Live Bet On?
There are many sports that you can place a live wager on. Most of the live wagers are easy to understand. The easiest sports to understand live betting though should be baseball, NASCAR and Golf. It also depends on the games that you personally enjoy watching as well since you will be more interested in them. The reason that baseball, NASCAR and Golf would be easiest is that they are slower paced sports that are easier for new bettors to follow. Once you get the hang of live betting, basketball and football are great sports to live bet on as well as they offer more action.
Live Betting Bonuses
As you look around for which online sportsbook is best for you to place your live bet, one of the most important things to keep in mind is the bonuses that they offer. All of the online sportsbooks offer bonuses right from the start as you sign up for your account. They will give you a bonus also depending on what your method of payment is as well. Once your account is squared away, you can use the promotions to place live bets. Some offer a risk-free bonus for getting your first live betting wager wrong, while others will offer you a free bet, regardless of the bet's grade.
Live Betting Age Requirement
Online sportsbooks have their age requirement set at 18 years or older but it also depends on the state that you are in as well. Some state's age requirement for sports betting could be 21 years old even if they do not offer regulated betting. It is important for you to know the age required wherever you are as you do not want to get caught betting underage as that is not required at all as you can land in legal trouble.