New Jersey vs. PASPA
It took over nine years of court proceedings for the case of New Jersey vs. the Professional and Amateur Sports Protection Act of 1992 (PASPA), but in the end, it was the Garden State that gambled and won. It all began in March of 2009 when Raymond Lesniak, a Senator for the State of New Jersey pursued the issue of the legalities surrounding PASPA by challenging the United States. In court documents for the lawsuit, he maintained that PASPA was discriminatory as it gave four states the right to gamble on sporting events while all other states were prohibited.
The lawsuit was thrown out by the judge saying any such issues would need to be brought up by the Governor at the time, Chris Christie. Fast forward to June 2017 where the case was taken on by the US Supreme Court, listening to opening arguments six months later in December. And five months after it was first introduced to the Supreme Court, PASPA was repealed in May of 2018 by a 7-2 majority vote on the grounds that it was unconstitutional.
PASPA Explained
The Professional and Amateur Sports Protection Act of 1992 (PASPA) was initially introduced in June of 1991, with the Senate Judiciary Subcommittee on Patents, Copyrights, and Trademarks. It was created due to the nationwide problem afflicting sports bettors when it came to gambling addiction. While it was seen as a "nationwide" crisis, four states were exempt from PASPA: Delaware, Montana, Nevada, and Oregon. These betting states were allowed to conduct sports betting business without fear of legal ramifications.
States With Bills Passed, But Have Not Yet Launched Sportsbooks:
On October 28, 1992, PASPA was enacted as an official federal law that prohibited 46 of the 50 states in the U.S. from participating in wagering on sporting events.
Almost 17 years later, in March 2009, Raymond Lesniak, a New Jersey State Senator filed a lawsuit contesting PASPA as being discriminatory and unconstitutional as it allowed 4 states to do business while others were banned. The case was thrown out by the judge at the time, requesting any such lawsuits come from the Governor on the issue.
In November 2010, a referendum vote showed that the majority of people in New Jersey were in favor of a legal sports betting industry.
In 2011, due to the vote, New Jersey begins to allow sports betting in racetracks and the casinos of Atlantic City.
In 2012, both professional sports leagues and the NCAA sue to stop New Jersey from conducting sports betting and ultimately win having sportsbooks in the Garden State close in February of 2013. Seven months later in September, New Jersey appeals the court's decision and loses yet again.
In September 2014, the state implements suggestions made from the previous cases they lost, and Governor Chris Christie signs a law to allow sports betting. The following month, the NCAA and major league sports take NJ back to court before they can open sportsbooks again in order to stop it from happening.
In November 2014, New Jersey loses and cannot open up their sports betting outlets. The Garden State just won't take no for an answer though and make an appeal in November 2015 where they would once again lose.
In August 2016, they lost their next appeal, a federal appeal, leaving only one option left, a US Supreme Court hearing on the matter.
In June of 2017, the Supreme Court agrees to take on the case of New Jersey vs. PASPA.
The first oral arguments were heard in December of 2017, six months after agreeing to take on the case.
In March of 2018, West Virginia begins to gear up for a legal sports betting market by preparing their own regulated and structured laws, making them the first state to pass legal sports betting after the PASPA ruling.
In May of 2018, PASPA was officially overturned by a 7-2 vote. New Jersey finally won their case, years after their first attempt, and states nationwide were now given the opportunity to open up their own sports betting industries.
How New Jersey vs. PASPA Affects All US States
New Jersey vs. PASPA has an effect on all of the United States because its repeal allowed every state the ability to open up their very own sports betting platforms, be it retail, online, or both. It was New Jersey that made all of this possible. Without the pressing of the topic as being one that was unconstitutional, PASPA could still be law today. If New Jersey hadn't fought for legal sports betting, a billion-dollar market wouldn't be contributing to state budgets across the nation from the profits made through sports betting revenue. Money that was once going to other countries by sports bettors looking to wager is now staying in America and helping the U.S. economy and that is just one of many side effects from the New Jersey vs. PASPA case.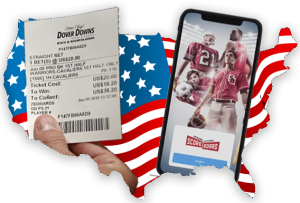 Did PASPA Affect Online Sports Betting In The United States?
PASPA affected online sports betting in the United States in a manner one would not expect. It made gambling enthusiasts looking to get some action in on the games go elsewhere to place their bets. And where was elsewhere? The deep dark corners of the internet, where at the beginning of PASPA, sportsbooks began to set up shop. As the years passed though, these offshore online sports betting platforms became reputable, regulated operators that were legal for U.S. residents to join and they did. They still do, more so in states that have not yet made state-regulated sports betting part of their legal landscape.
Will PASPA Ever Come Back Again?
There is no evidence that PASPA will be making a return to order as a Federal law in the U.S. About half of the United States has already legalized their own sports betting industries at the statewide level. To bring back a ban, especially one that would affect so many economies across the country negatively, would be an uphill battle that would not be without major opposition. Outside of that, the main reasoning behind PASPA in the first place was to address gambling addiction. Most of the new state laws for legal sports betting have within them an area where problem gambling and addiction services will be made available to the residents in need of them. This makes any semblance of a PASPA return in the future moot.
Best Sportsbooks for Betting States
Rank
Online Sportsbooks
Bonuses Offered
Rating
US Players?
Play Now!