Sports Betting Deposits + Funding Methods
Learn more about deposit options for US players at online sportsbooks. Before depositing money into a sportsbook account, it is good to take into consideration the safety and security measures that the sites are using. There are also different deposit methods that sports bettors can use on different state-regulated and online betting sites. These deposit methods that they accept are the fastest deposit options online sportsbooks have to offer.
Throughout this review of deposit options for state-based players, there will be information presented on the safety and security when handling deposits. There is also information on the different deposit methods that bettors can use such as the deposit minimums and maximums as well as if there are any fees. The information will differ amongst the different deposit methods such as debit and credit cards, cryptocurrencies like Bitcoin and other online banking options.
Legal Betting Sites With Fast Deposits
There are plenty of different online sportsbooks both state-regulated and offshore that allow for fast deposit methods. With the state-regulated sportsbooks, however, there is one major restriction that sets them back from international betting sites. That is that they do not allow for any cryptocurrency deposits. Other than that one major difference, there are plenty of deposit options for both online betting sites as well as state-regulated sportsbooks as well. Here you'll find a list of both state-regulated and international sportsbooks that have different deposit methods.
Best Sportsbooks With Easy Deposit Methods
Rank
Online Sportsbooks
Bonuses Offered
Rating
US Players?
Play Now!





Secure And Safe Sportsbook Deposit Methods For USA Players
All of the deposit methods available on online sportsbooks are safe to use. What makes them even safer and more secure is the fact that some sportsbooks might require a photo ID so that the name on the card matches the name on the ID before making a deposit. Most of the online books will also send out a confirmation email after every successful deposit. Also, they use one of the safest and most secure programs in securing deposits as well like 256-bit encryption.
Popular Deposit Methods At Online Sportsbooks
Being that these are online betting sites, it allows for plenty of different deposit methods. Sure, an ordinary credit and debit card is accepted but they also accept payment methods like cryptocurrencies such as Bitcoin as well as Zelle and other online banking methods. Since there are different deposit methods, there are also different deposit minimums and maximums that bettors need to meet before depositing money into an online sportsbooks account. There could also be deposit fees that are taken when making a deposit. As long as the minimum and maximum deposit amounts are met and the deposit fee is paid, bettors can take advantage of online sportsbooks to the fullest extent.
Betting With Credit Cards
The great thing about both state-regulated and international sportsbooks is that they both accept all of the big-named credit and debit card companies. They accept major companies like VISA, MasterCard, American Express and Discover. On international books, the minimum deposit could be as low as $10 and reach a maximum of 5,000. State-regulated sportsbooks do not have a minimum or maximum deposit requirement that must be met.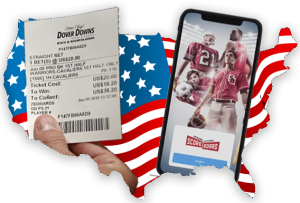 Betting With PayPal
In order to use Paypal to make a deposit on online betting sites, a PayPal account must first be created. Once the account is created, bettors can use a normal credit or debit card to deposit money into the account. When using a PayPal account to insert money into an online sportsbook account, there is a 2.9% service fee on the amount of money that is deposited.
Betting With PayNearMe
PayNearMe is different than other online deposit methods as it is only offered in betting states that have their own regulated online sportsbooks. It essentially acts as a digital wallet that allows bettors to link them to their online sportsbook account. Something else to keep in mind when using PayNearMe is that they might be partnered with some retail locations to accept payments for online sportsbooks as well.
Sportsbooks That Accept Bitcoin
Offshore betting sites have the upper hand over state-regulated sportsbooks when it comes to accepting Bitcoin. There are no state-regulated betting sites that accept bitcoin as a deposit method. There are also minimum and maximum deposit limits that need to be met when depositing using bitcoin. One positive here is that there is a low minimum amount ranging between $10-$20 and an even higher maximum that can reach up to $100,000 on some online sportsbooks.
Betting With Cryptocurrencies
Like Bitcoin, only international online betting sites accept different forms of cryptocurrency. The cryptocurrencies that are accepted range from Bitcoin, Bitcoin Cash, Ethereum, Litecoin and Ripple. On all online sportsbooks, they all have the same low range when it comes to depositing limits and maximums. The limits hardly ever exceed $20 and the maximums reaching all the way up to $100,000. With these betting sites accepting cryptocurrencies, it makes it easier for online sports bettors to be able to deposit quick and place bets.
Zelle Deposits
Zelle is another great deposit method for those using international books as state-regulated ones do not currently accept Zelle. In order for bettors to use Zelle, it needs to be converted into Bitcoin first. Also, not all betting sites allow sports bettors to make a deposit using Zelle either. The ones that do have the deposit limit at $50 and the deposit maximum at $450. The maximum is the lowest amongst all of the options that are available.
Best Sportsbook Deposit Method For High Rollers
If you consider yourself a high roller when it comes to sports betting, the deposit method that makes sense here is Bitcoin or any other form of cryptocurrency. That is because the deposit maximum is the highest amongst the other options. Also, there are no fees when making a deposit using Bitcoin either. Check out bank wires options for depositing into a sportsbook, as the low fees can help with an easy transfer.